Copenhagen is often associated with a city full of inspiration and an urban powerhouse.
What is it that makes it so?
Is it its architecture of big ideas – the harmonious clash between an old medieval city heart and the new, sometimes radical designs?
Is it its habitable scale and human centric urban planning?
Or is it the balance between cars and bikes mixed with Scandinavian pragmatism that gives this city an edge and it's name as a 'laboratory of big ideas'?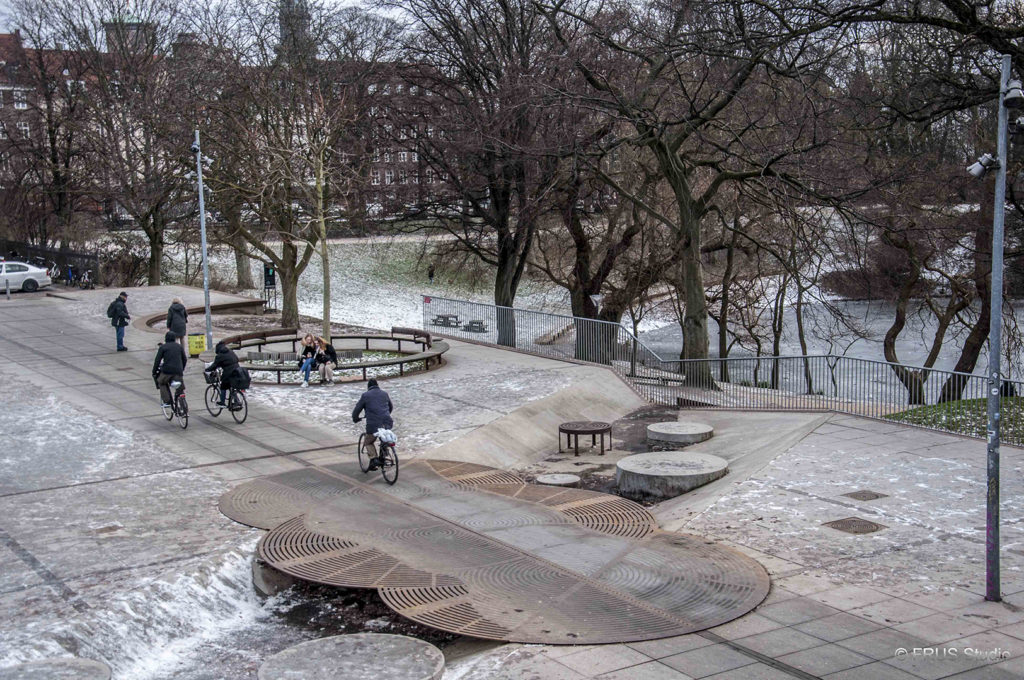 We have visited Copenhagen during few gloomy wintry days back in January, where traces of snow were still visible. The air was breezy and fresh. In true Scandi style and despite the cold weather, there was life and liveliness on the streets.
The city is praised by treating its cyclists equally to its car owners. The apparent 50/50 bike to car split is clearly visible on the streets. Don't get me wrong, people are also walking here, but walking seems rather less special.
The phenomena and the equality in mobility in Copenhagen comes from a relationship between bikes and cars.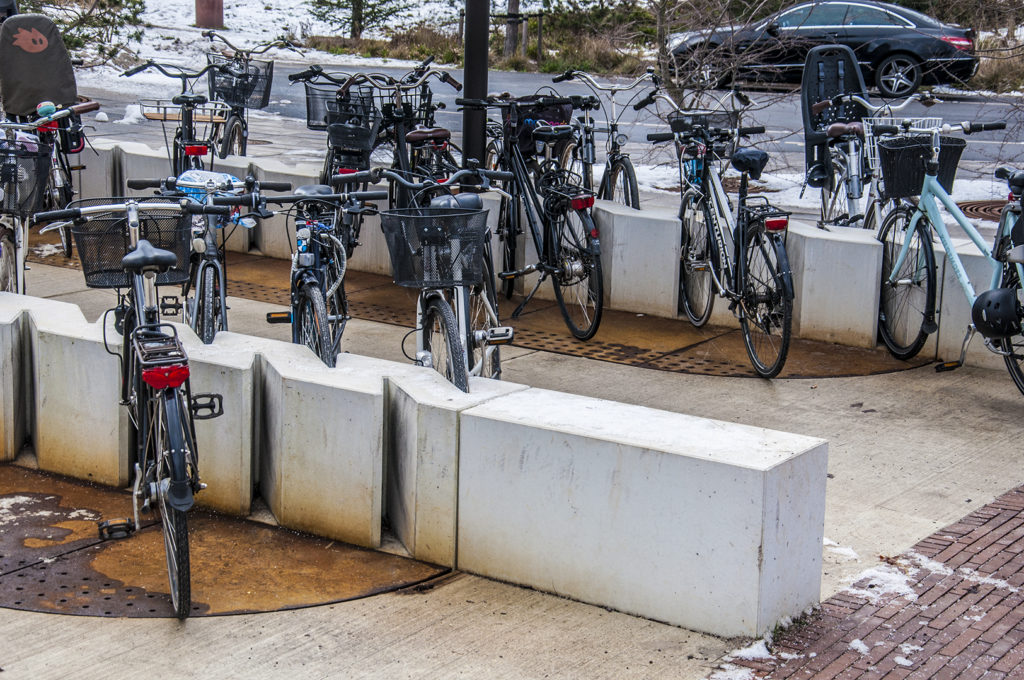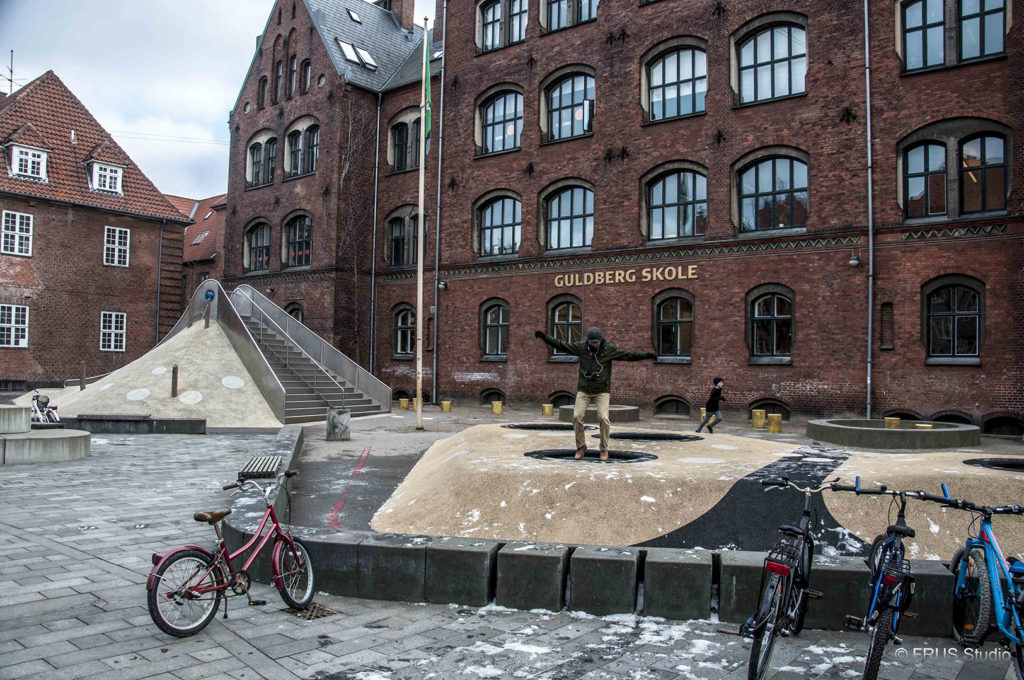 The bike seems to be the best form of commute here, as it not only goes everywhere where the car goes, but with the added benefit of fitting into narrower streets and sometimes sharing space with pedestrians, where cars are not allowed.
So there was nothing else for us to do, then test the theory. We have decided to embrace the Copenhagenisation and rented the typical Dutch bikes, as the most convenient way of exploring the city.
In a city such as Copenhagen, there is a lot to explore. One can choose between historic and modern architecture, and many famous landmarks. Perhaps a reason to visit is to experience Nordic couisine or its fashion, design and Jazz culture.
Culturally it is a very vibrant city, here during a day one can venture through the Royal residence Amalienborg Palace (of the current Danish royal family) and the self-proclaimed autonomous anarchist district, the famous Christiana Freetown, set up by hippies in abandoned army barracks in the 1970s. Or perhaps, an inner city skiing at the Copenhill power plant.
Yes, of course, we wanted to see it all.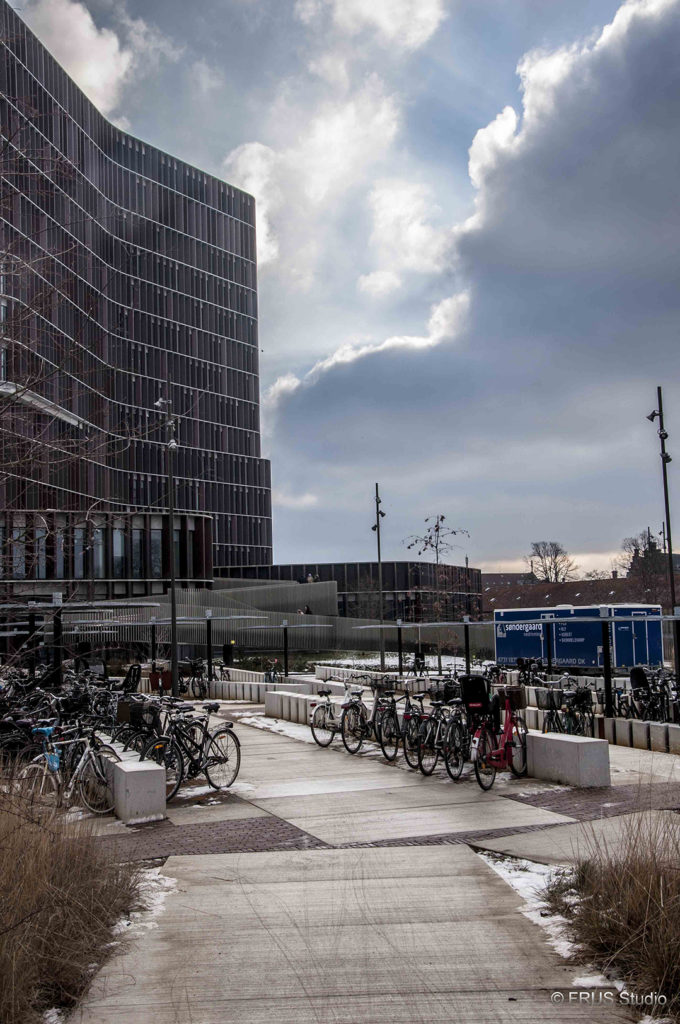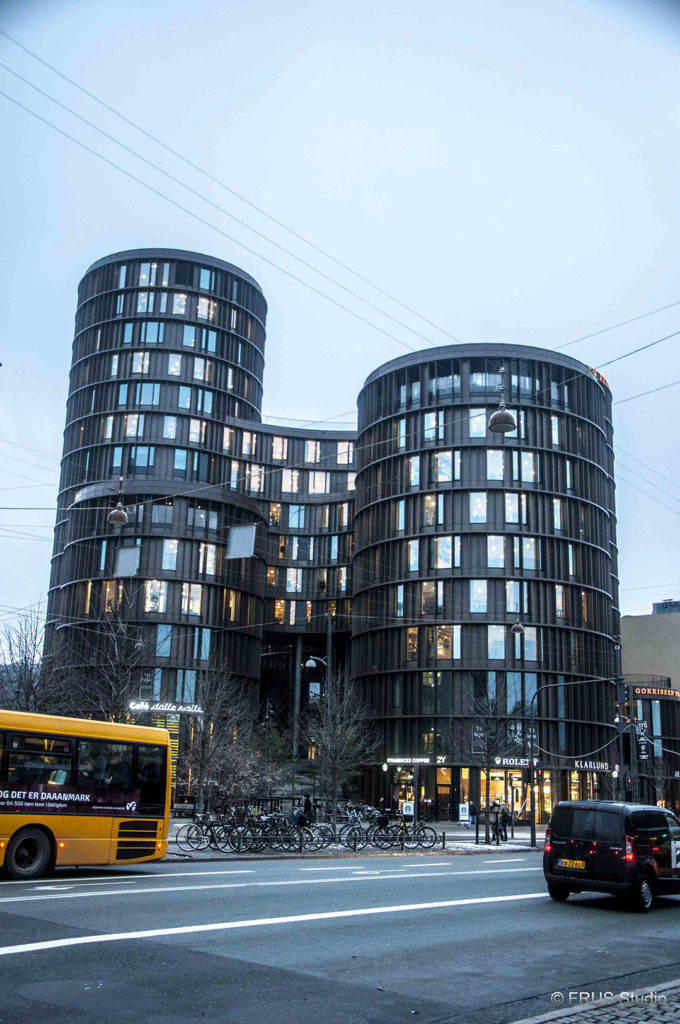 The cycle route took us through the pedestrian and cyclist friendly Cirkelbroen situated directly opposite the shiny, black mirror at the harbour front – the Black Diamond (the Royal Library). We saw impressive public squares such as the Israeli Square, the City Dune and the Nørreport Station. We have experienced the incidental pocket parks of Guldbergs Plads and Guldberg Byplads.
We have stumbled upon the Tietgenkollegiet in the Ørestad district. This student hall has a conspicuous circular shape, inspired by traditional southern Chinese Hakka Architecture and was designed by Danish architects Lundgaard & Tranberg in 2006. We were well impressed by the circular courtyard with massive Larch trees inside. Its concept focuses on encouragement of personal and social development of the students (Photograph 14).
Our imagination have been stimulated for sure but at the same time we were longing for more…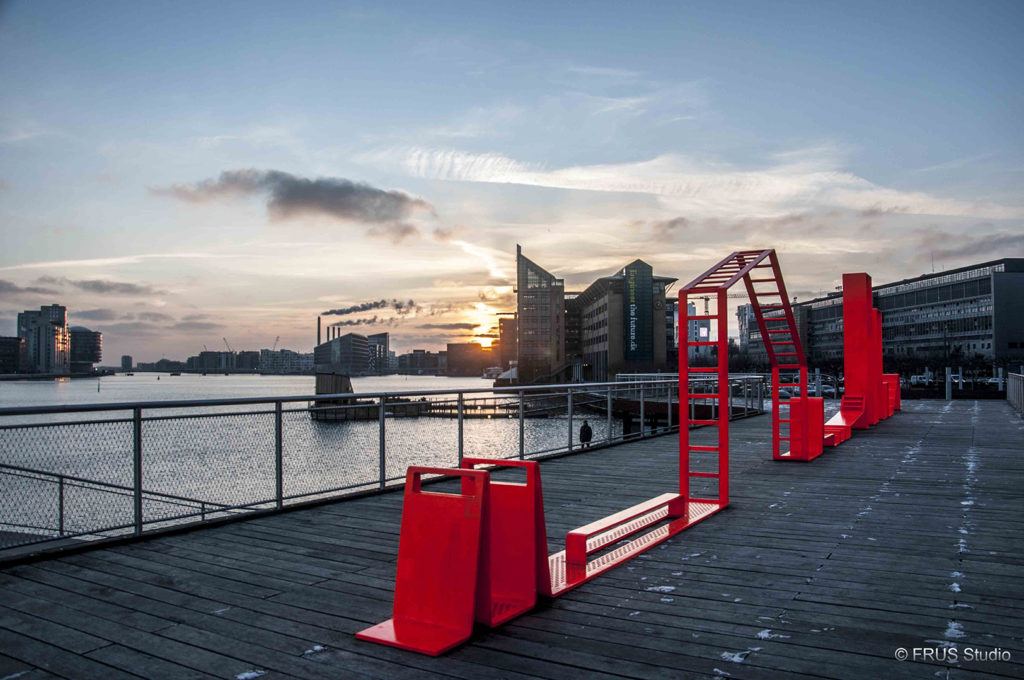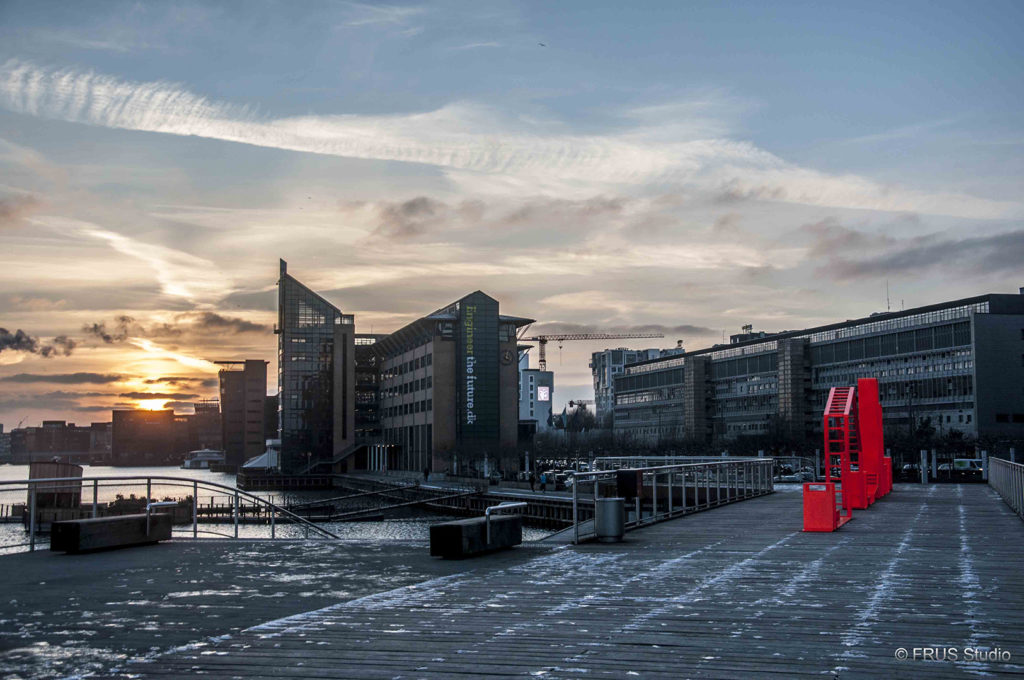 And so, we have ventured into the harbour and through the joyful and playful Kalvebod Waves. Activity packed public spaces, that stitch the inner city with its harbour. We have paused here to enjoy the stunning sunset over Copenhagen cityscape.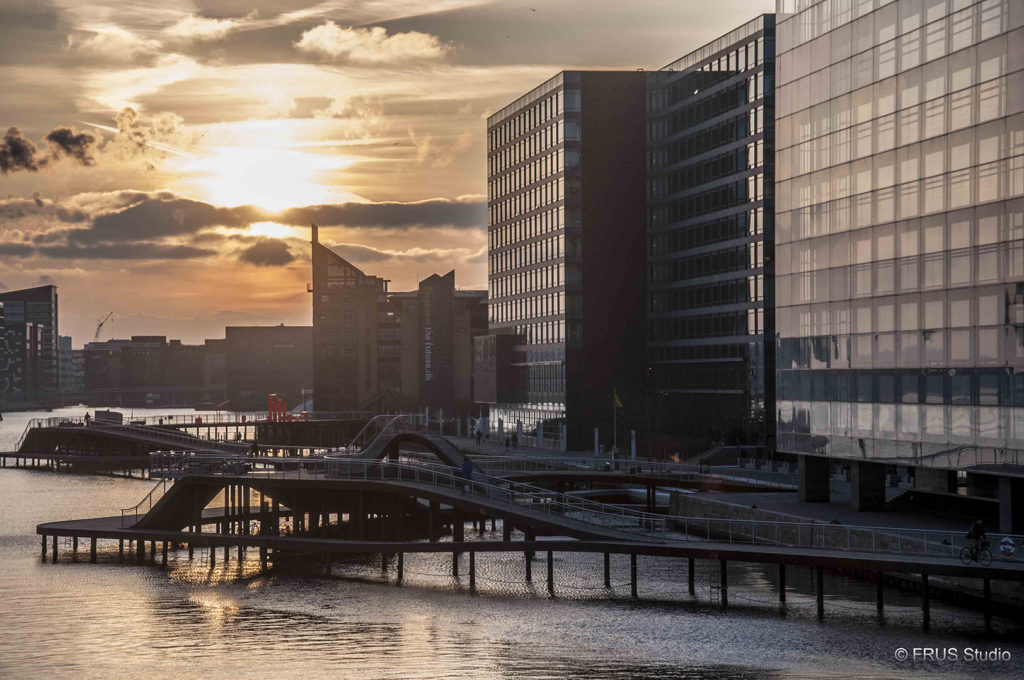 There came a time when we couldn't bare the cold any longer and used this to pop in the Danish Architecture Centre.
It was celebrating work of two pioneering designers: Ove Arup – Anglo-Danish engineer and philosopher behind iconic projects such as the Sydney Opera House, the London Zoo's Penguin Pool and the Pompidou Centre; and Jørn Utzon mostly known for the design of the Sydney Opera House. Jørn's design style can be described as personal, sculptural and quite unique of its time. We were the most impressed with the Langelinie Pavilion idea, inspired by nature yet sadly never realised.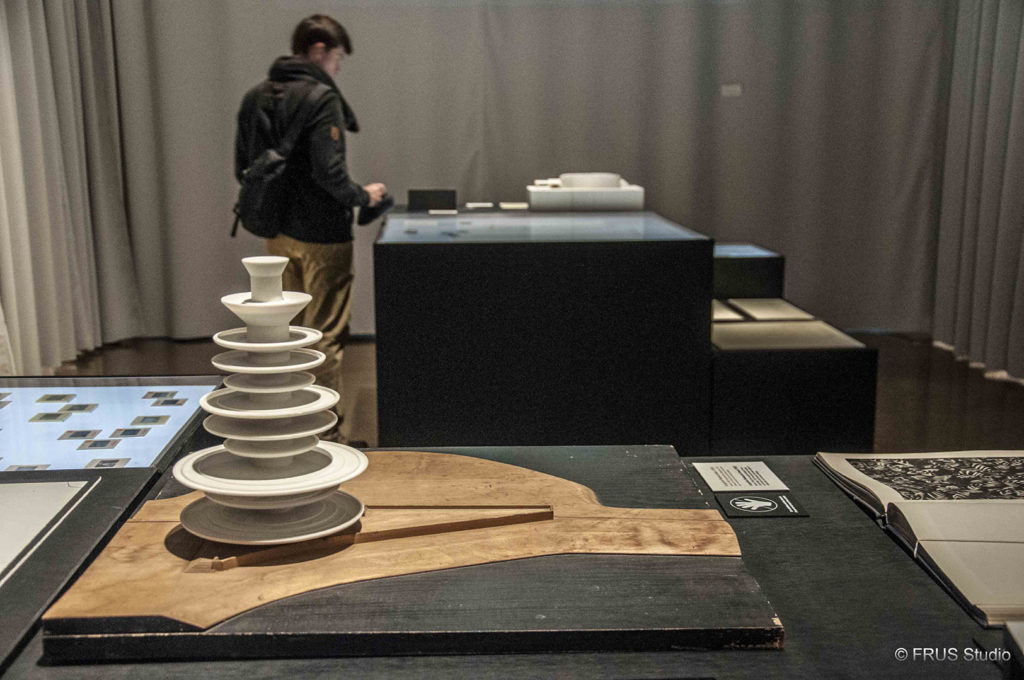 "The true innermost being of architecture can be compared with that of nature's seed, and something of inevitability of nature's principle of growth ought to be a fundamental concept in architecture." Jørn Utzon, 1948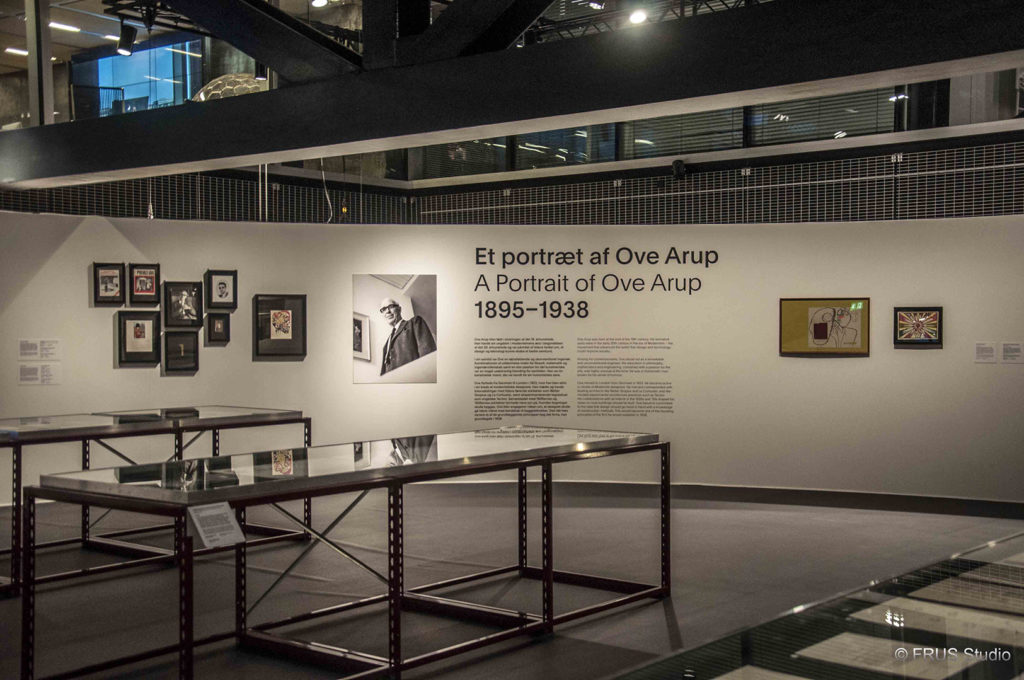 The true reason and urge for our visit became apparent when we have experienced one of Bjarke Ingels Group (BIG) creations – The Superkilen.
We have greatly enjoyed this radical urban park with its octopus slide (designed by Japanese designers), meandering patterns and a mix of random looking items – all carefully designed to please the local population.
Immediately after we have entered into the park our moods have been uplifted, we felt joy, surprise and happiness – what a place, even in full swing of winter!
This again wasn't enough for us, we needed to see BIG's creations and venture slightly off the main city attractions.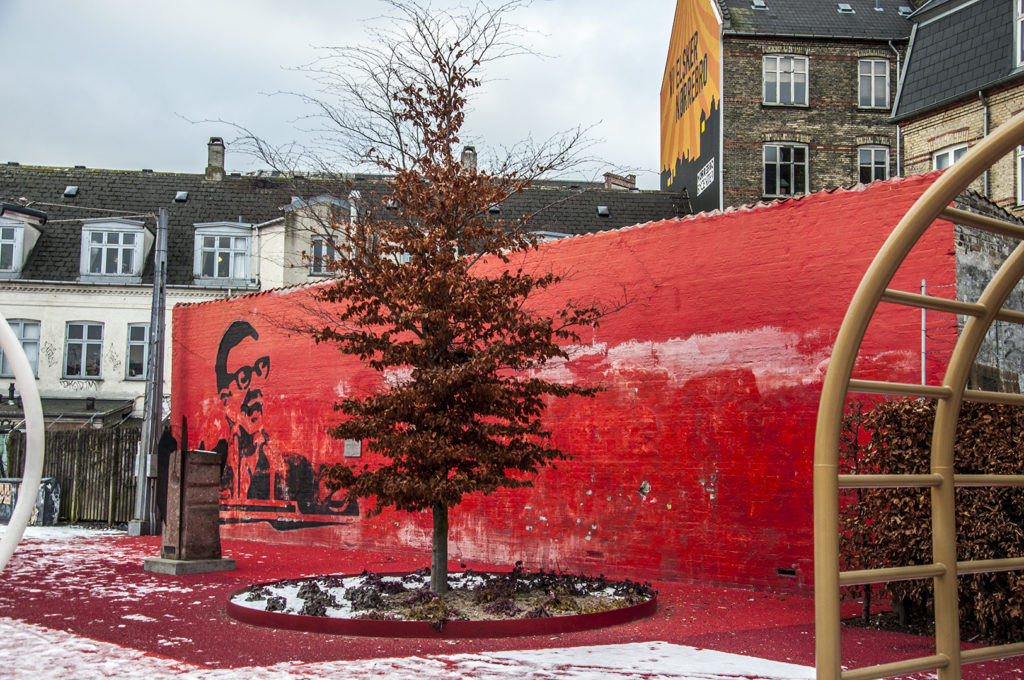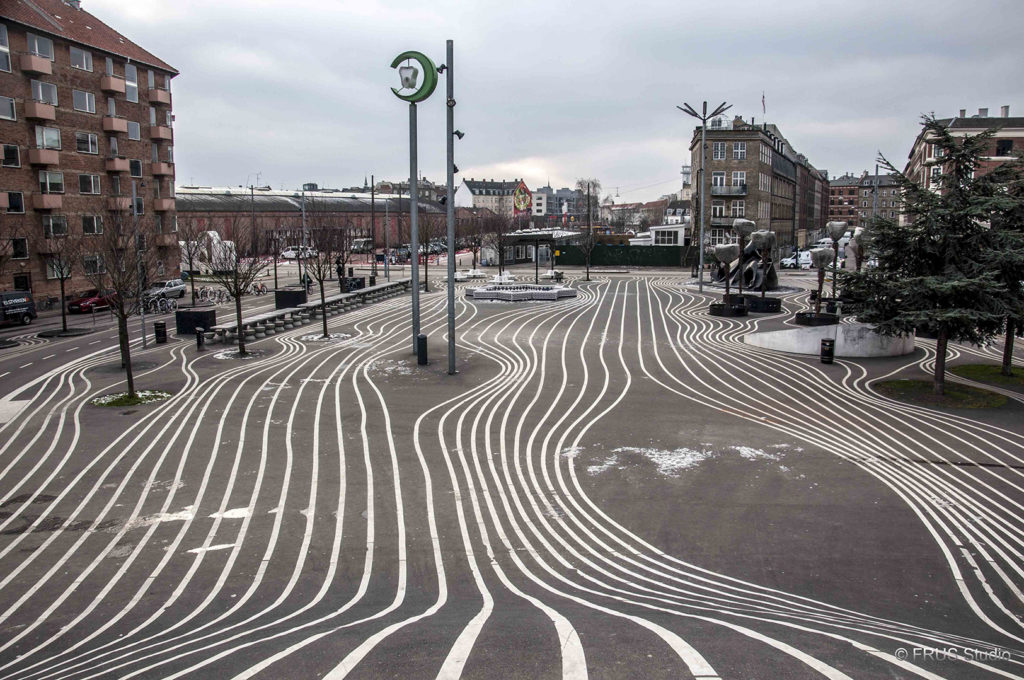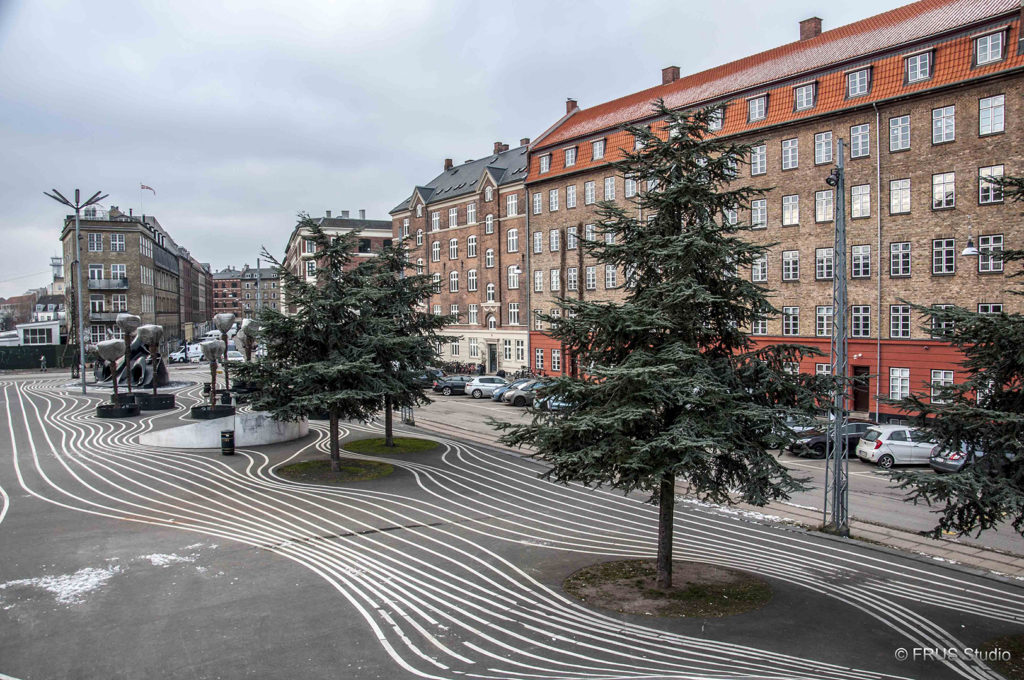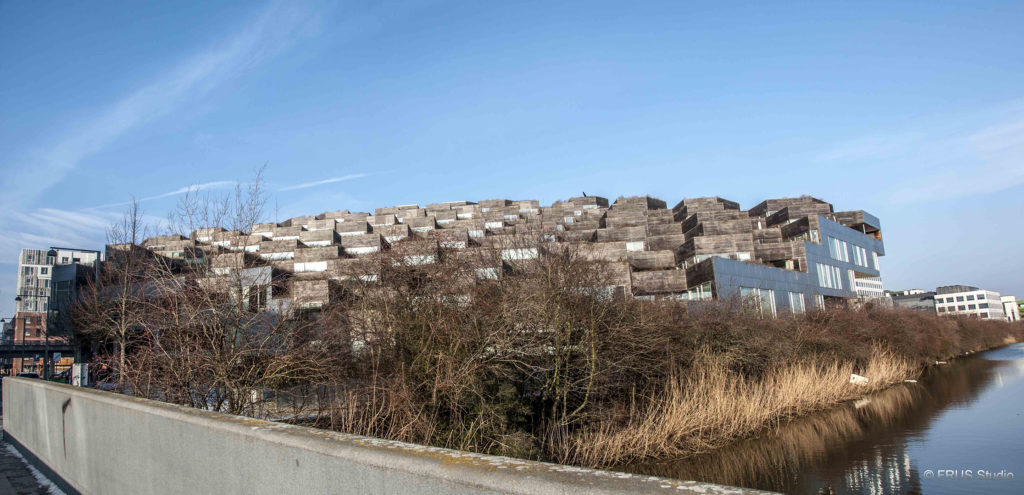 We cycled along canals to the Mountain. Slightly ironic name for a totally flat city landscape – perhaps something the Danes are longing for?
The Mountain is a cascade of terrace housing with amazing roof gardens facing the sun, giving access to fresh air and views. Homes sit on top of car parking and result in combined functionality . The complex has beed categorised as suburban living with urban density – couldn't be more true here.
Continuing our cycle journey through Copenhagen, we have arrived at the one and only – 8 Tallet – what a gem!
The idea that the public can enter its main access path and visitors are invited to roam through the structure is mind bobbling. You can park your bike in the expansive cycle lot, taste the amazing food from the cafe and enjoy the spectacular surrounding views of the land and its wildlife with sights extending to Sweden!
If we were ever to move to Copenhagen this would be the location for FRUS Studio to inhabit.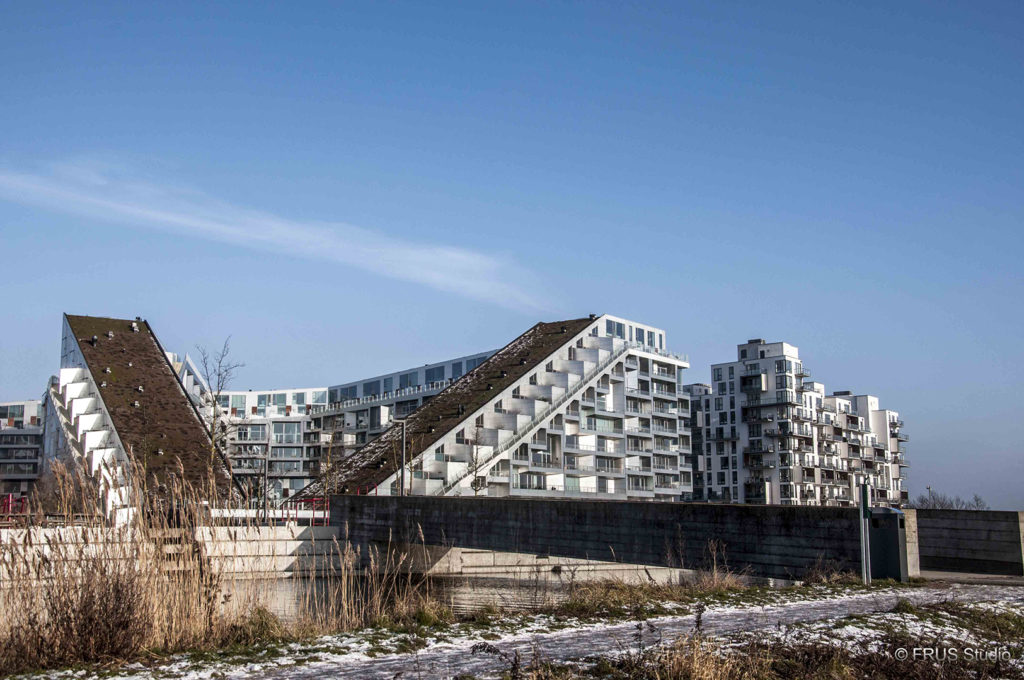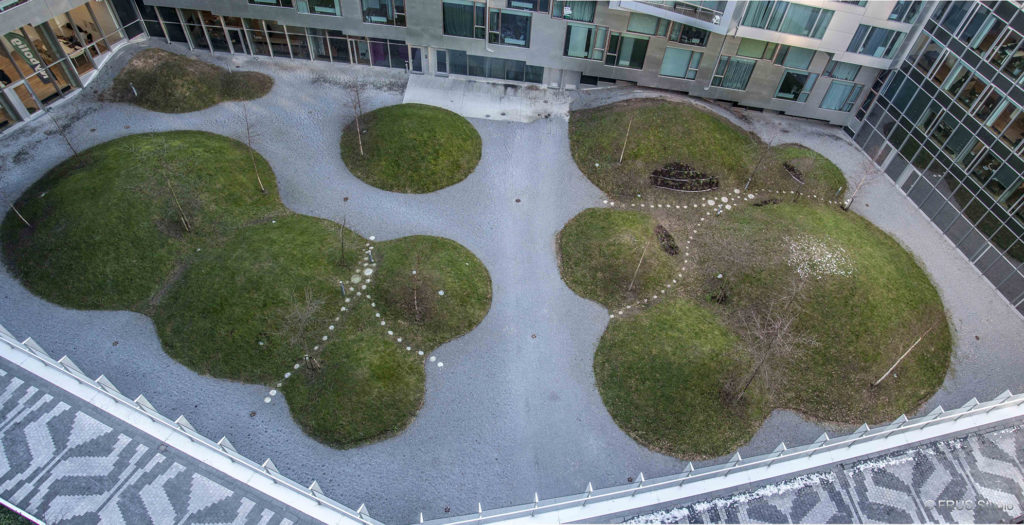 Before we said goodbyes to this amazing city, we had one last node to tick. The off-shore Kastrup Sea Baths in the Øresund Sound. This is a truly magical place, even in winter. Ok, no one was swimming and we were also not that brave to take the plunge! However, we have enjoyed sun basking on its deck. The impressive Øresundsbroen bridge that connects Denmark and Sweden is also visible from here.
Cycling through the Amager Beach Park was equally a truly unique experience. The two kilometre long artificial lagoon with sandy dunes and vast amount of grasses gives a feeling of an escape, tranquillity and connectedness to nature.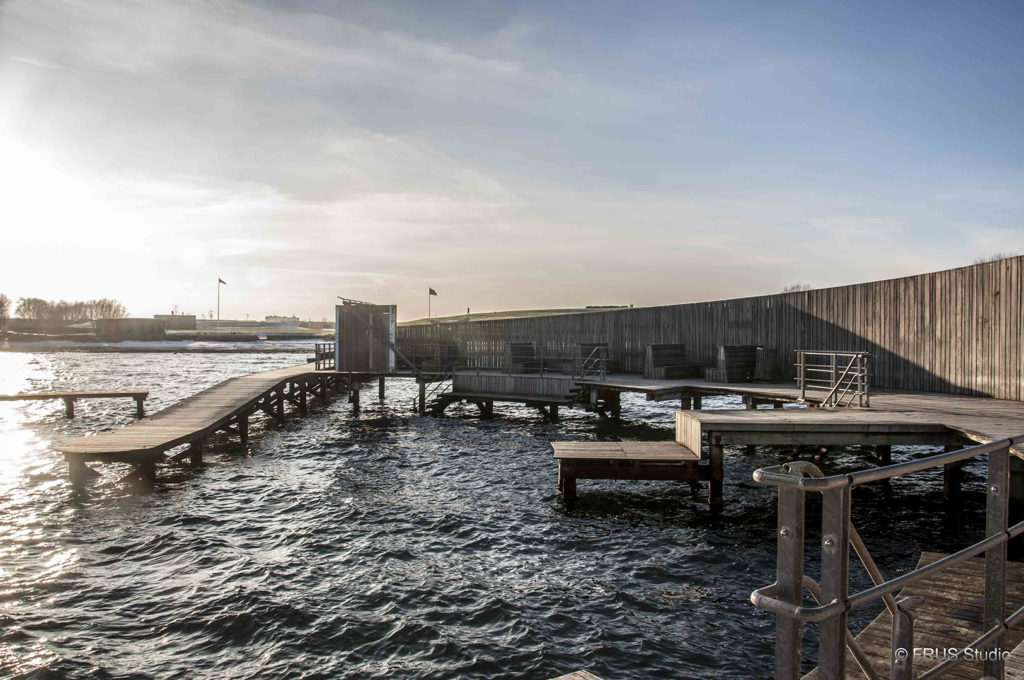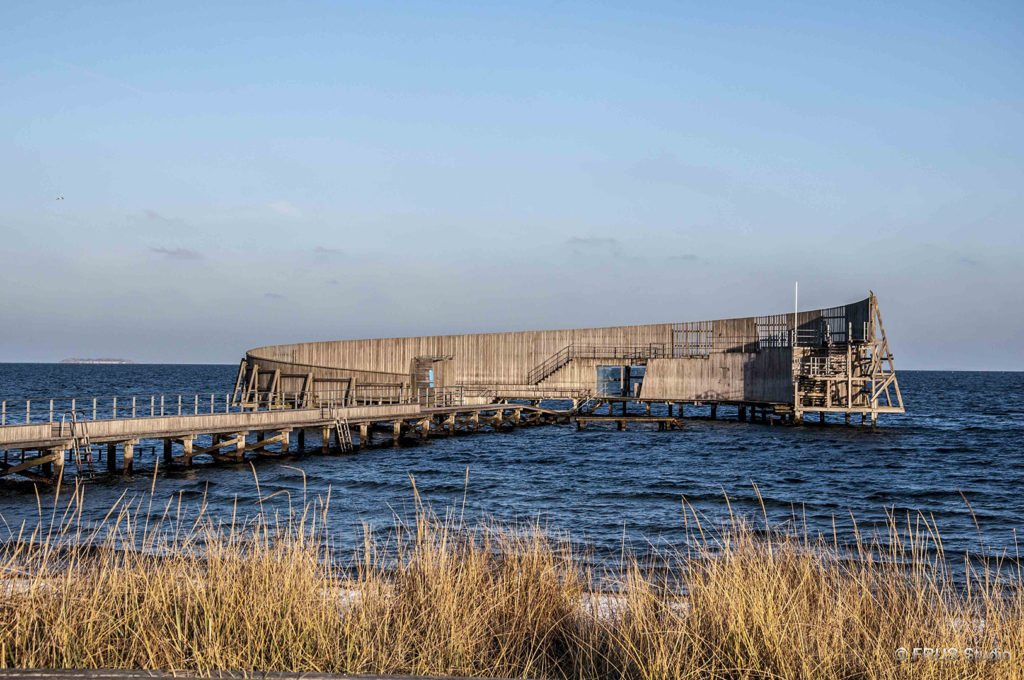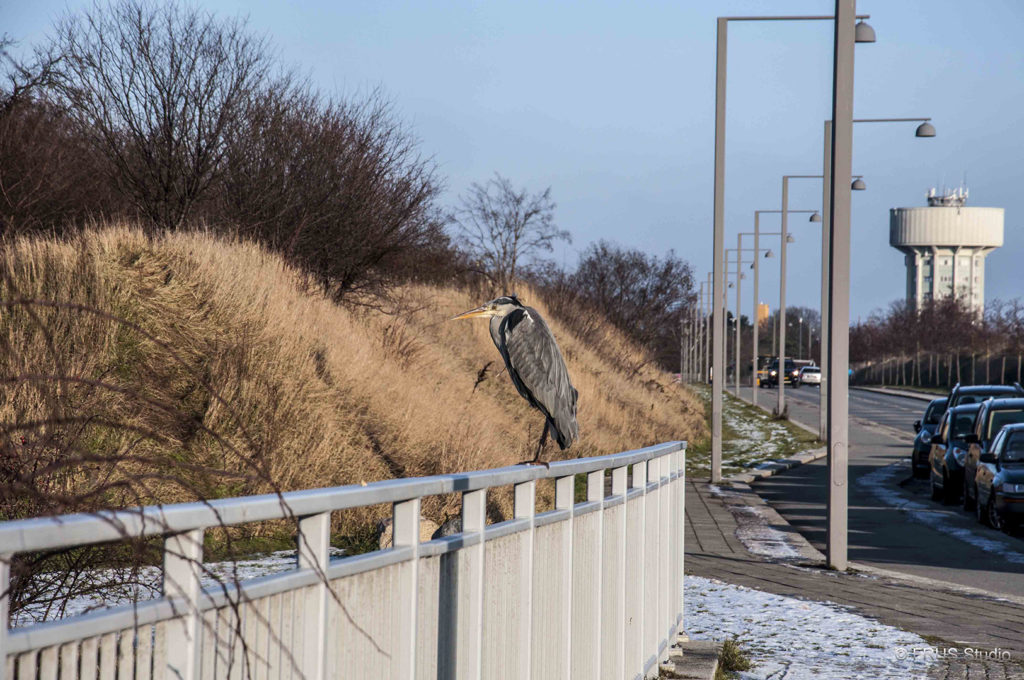 My answer to the opening question: What makes this city a model of inspiration and an urban power house? has to be the Scandinavian pragmatism. A pragmatic utopianism with an incredible sense of style and design taste.
As Bjarke Ingels once said: "We believe that there is a third way wedged in the no-mans-land between the diametrical opposites. Or in the small but very fertile overlap between the two. A pragmatic utopian architecture that takes on the creation of socially, economically and environmentally perfect places as a practical objective."
It is as if this approach has been embedded in the city scape of Copenhagen and continues to be so.